Beginners Guitar Lessons
When I say "beginners guitar lessons" I am really talking about initial learning stages of beginning guitar players as a group. This page may be of special interest to parents and non-music specialist teachers. And:
Anyone Who's Never Picked Up a Guitar
Beginners can fall roughly into several categories of chronology:
       The child learner (6 to 12 yrs) who is either a self-actuated youngster or being prompted by family and educators to "give it a go"
      The adolescent leaner (12 to 18 yrs) who may have any proportional recipe mix of extrinsic and/or intrinsic motivations
       The  young adult (of "voting age"according to law) who is self-actuated and independent
       The parent (or teacher) who wants direct engagement or indirect involvement with their children's development
       The mature adult who is either returning to or committing to an endeavor of self-fulfillment for leisure and relaxation or a personal goal.
 In any case one thing is sure.  Only very highly intrinsically motivated, gifted and talented people can get higher than reasonable results without some kind of guidance.
Personally I am, alas, just a regular guy, a mere mortal. I'm not one of those highly motivated gifted and talented people but... what I am very good at is getting measurable results from people who never thought they could achieve what they are achieving. I am good at this because I know what it is like to struggle along the way on the road to progress. I know what it's like to need guidance.
---
If you can count to twelve...If you can say the alphabet from A to G... If you can clap the rhythm to a simple tune like Happy Birthday... If you can hold a pencil between your thumb and any finger... then you can play guitar. I know I can help you.
---
Have a look at this video about basic left hand posture.
Beginners Guitar Guide to Fretting Hand Posture
We can see in the video something that looks rather simple and straightforward. However you may find that when you try these ideas out either on yourself or a child things can seem trickier. This is normal. It is nothing to panic about. If these hand positions feel unnatural try not to worry and don't quit. Just give it a rest and come back later and try again.
The Key to Beginners Guitar Lessons
The real secret to success in the early learning of the beginners guitar lessons stage is programming. We want to program our "muscle memory" and our habits to become "second nature". (see below)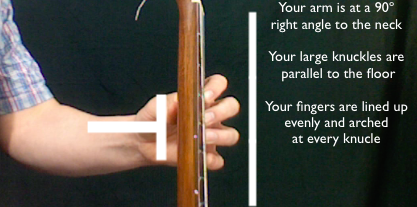 We tend to look at a physical action in sport or music and see something that may look to us to be easy. This is the unconscious incompetence phase. It looks like anyone could do it. Then we try ourselves and realize it is harder than it looks. This is the conscious incompetence stage. We realize we can't "just do it". After awhile, we can with concentration, do the action ourselves in a proficient enough way. We have reached the conscious competence part of our journey. Finally, eventually we reach the point of "second nature" or unconscious competence. We can at last do the thing, the action; swim, cycle, drive, flip, play guitar, sail a boat… without thinking about it. It is at this point where we begin to find it more difficult to explain to others how we are doing what we are doing. We can "just do it".
Remember to keep it simple. Try to resist the temptation to do what we want to do naturally when holding an object as large as a guitar neck. It is not about gripping it is about control muscles. Think of the neck as a big pencil. All other postures will become available from this kind of relaxed light fingered approach. If you are careful, methodical and patient you will be surprised at how quickly you can graduate from the category of beginners guitar lessons to intermediate and eventually advanced. Perseverance is a virtue! 
Watch This Video Once You Have Tried the PencilNeck Trick
For excellent, very detailed information about classical style sitting posture and the mechanics of efficient movement have a look at the brilliant Bill Kanengiser's lecture about technique. It can be found on Amazon here in the UK these days (I am not an Amazon affiliate) so I'm sure with a bit of research you will be able to find it somewhere.  
Keep Checking Back
Stay tuned for more beginners guitar lessons as this site grows. Next we will cover right hand postures and techniques as well as more detail about sitting styles. Happy Playing folks!
You can stay up to date and get regular free lessons tips and tricks by signing up to the Guerrilla Guitar Tactics Newsletter below: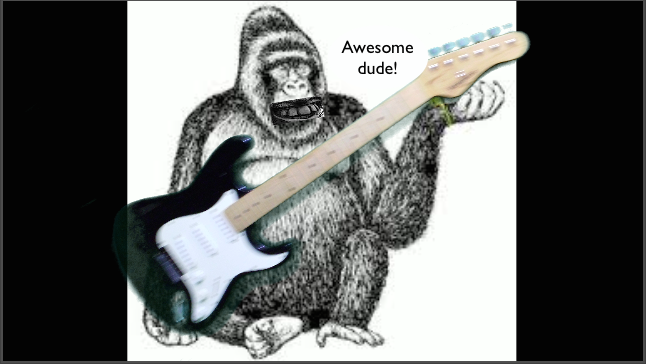 ---
---
Home>Top>Pencil Neck Video>click here to support this site
If you are local to the United Kingdom West Midlands Coventry Kenilworth Leamington Warwick Rugby Stoneleigh  CV8 Post Code area and are interested in tuition feel free to arrange a "First session Free" Guitar or Theory Lesson. Perhaps you just want to *chat over a cuppa about the options for your children's music education.
*N.B. Until further notice all interaction will be virtual or in full observation of distancing practices.
Playable Guitar 
Rural Innovation Centre Unit 32 Avenue H 
Stonleigh Park CV8 2LG   +44 2476 998 500
International? Please contact me about Skype lessons. Se habla español – pues bueno un pocito! 
click here to see how to support this site

---
Got suggestions or questions?
Want to try a free Skype or Zoom lesson?
Got a testimonial? click here
Click the link to the contact form above or write to me at the address shown and I will get back to you as quick as I can !
Happy playing!
---