Guitar Exercises For Beginners
Strength vs. Dexterity
I hear and read a lot about using guitar exercises to build or create strength in your hands for the purpose of improving your guitar playing. Although there is some truth to this idea it is not really that accurate to say you need to have strong hands to be a good guitar player. It is really more about developing the ability to relax and build dexterity and independence in your fingers, wrists, elbows, shoulders and general posture. It is more about control of muscles than strength of muscles.
Avoid Boring Guitar Exercises
Guitar Exercises don't need to be boring or painful. They can be quite motivating if we let them. They are a great way to satisfy our urge to "waffle" or "noodle" on the guitar. Random movement can be damaging to the learning process at times.  Imagine if you were to try to improve at a video game by just haphazardly hitting, twisting and toggling controls on your hand set controller at random. If you never do anything the same way twice how could you develop any skills to get to the games' next level? The exercises on this part of the site are designed to include an element of improvisation and imagination. This will help to develop technical skill as well as musicianship.
Specialised Handed Exercises
We'll start with some right hand techniques that will lead to turning into pieces of guitar music with skills you can adapt to just about any situation or style.
Try these right hand finger style exercises remembering that we are going to use the results in our own way once we get a basic grip on them. Read this to help you get around the "no time to practice" obstacle! 
---
The "a m i" arpeggio (Romanza Exercise)
Get the "a m i" arpeggio Guitar Pro File here
---
Get the Split Fingering Study Guitar Pro File here
---
Get the Malagueña Guitar Pro File here
                      Watch the Malagueña Guitar Pro 6 File Video below
---
If you need a reminder about your right hand fingering have a look at this diagram to help you out.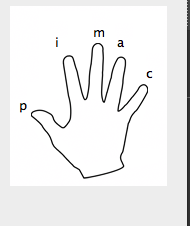 Study Notes and Mindset
When finding those stolen minutes of "trapped or void time" to practice (see above), remember that our goal is to realise how we can use these techniques in a musical way. For example the a m i arpeggio is a great place to try simply adding any left hand finger on to the High E string at any fret. Just listen to what happens. You can try patterns like two arpeggios on a note you like then move away one or two frets (up or down) and play one arpeggio before returning to your original note. Maybe you're writing your first big hit!!!?
---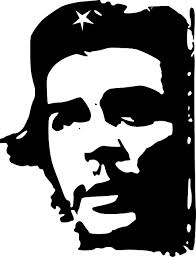 ENTER YOUR E-MAIL ADDRESS FOR THE FREE
GUERILLA GUITAR TACTICS NEWSLETTER
---
Get your right hand working smoothly and keep your mind open to exploration and you will avoid the boring pot holes in the guitar exercises road. To stay informed on updates please subscribe to my up coming newsletter and/or my RSS feed. You know when the video lessons get posted that way!
Happy Playing!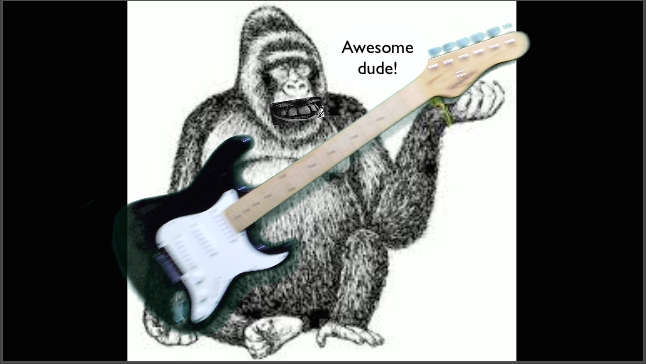 Home>Top>click here to support this site
If you are local to the United Kingdom West Midlands Coventry Kenilworth Leamington Warwick Rugby Stoneleigh  CV8 Post Code area and are interested in tuition feel free to arrange a "First session Free" Guitar or Theory Lesson. Perhaps you just want to *chat over a cuppa about the options for your children's music education.
*N.B. Until further notice all interaction will be virtual or in full observation of distancing practices.
Playable Guitar 
Rural Innovation Centre Unit 32 Avenue H 
Stonleigh Park CV8 2LG   +44 2476 998 500
International? Please contact me about Skype lessons. Se habla español – pues bueno un pocito! 
click here to see how to support this site

---
Got suggestions or questions?
Want to try a free Skype or Zoom lesson?
Got a testimonial? click here
Click the link to the contact form above or write to me at the address shown and I will get back to you as quick as I can !
Happy playing!
---