Free Acoustic Guitar Tabs
Here are some Free acoustic guitar TABS in a variety of styles and levels of difficulty. 
These arrangements include the standard notation as well as the tabs for easier reference and playability. Some easy to intermediate Jazz, Classical, Christmas and Popular Music and more will be found here as this site continues to grow.
These arrangements will be added to as quickly as possible so keep checking back or sign up for my newsletter to be advised about the updates. Happy Playing friends!
Andante by Sor                              (Beginner to Advanced)
Chasing Cars                           (Beginner to Advanced)
Danny Boy ABRSM Grade 5      (Intermediate to Advanced)
Malagueña No.1                       (Beginner)
Simple Blues Pattern in E          (Beginner)
Somewhere Over the Rainbow  (Upper level Beginner)
The First Noel                          (Upper level Beginner)   
Moon River                              (Intermediate)
Japanese Water Garden            (Intermediate Advanced)
Santa Claus is Coming to Town (Advanced)
Peace Love Unity                       (Advanced)
So, what genre and styles can really be played on the guitar? …..is it really the best instrument in the world?
The answer truly is any! …and yes!! Any genre and any style of that genre or sub-genre can be successfully interpreted on the guitar.  This fact is what makes the guitar the best musical instrument in the world… well at least to all us guitar players that is. Below are just a few video clip examples taken from a short lecture at an art college in 2013 discussing musical genre and style from a guitarist's point of view. 
Keep your eye on this site for upcoming free acoustic guitar tabs in these styles and more...
---
---
to go to "The Building Blocks of Chords" click here 
If you think about it long enough you will find an example of just about every type of music being represented on the guitar. Stop for a moment and try listing them until you run out.
It's a daunting task really. Off the top of one's head thinking in roughly chronological order (just to give us a chance) we have:
Early music, Renaissance, Baroque, Classical Period, Romantic era, Contemporary Period moving on to sounds captured on audio recording technology such as folk (a broad overlapping term including music from all over the world some of which are to follow here) Blues, Spiritual/Gospel, Soul, Flamenco, American Country, Western Swing, "Trad" Jazz, Gypsy Jazz, Modern Jazz, Big Band, Reggae, Raggamuffin, Rock and Roll, Rock, Heavy Metal/Metal, Fusion, Salsa, Merengue, Tango, Bossa Nova, Bachata, lets not forget Pop Music as we've known it in any guise in any age.
---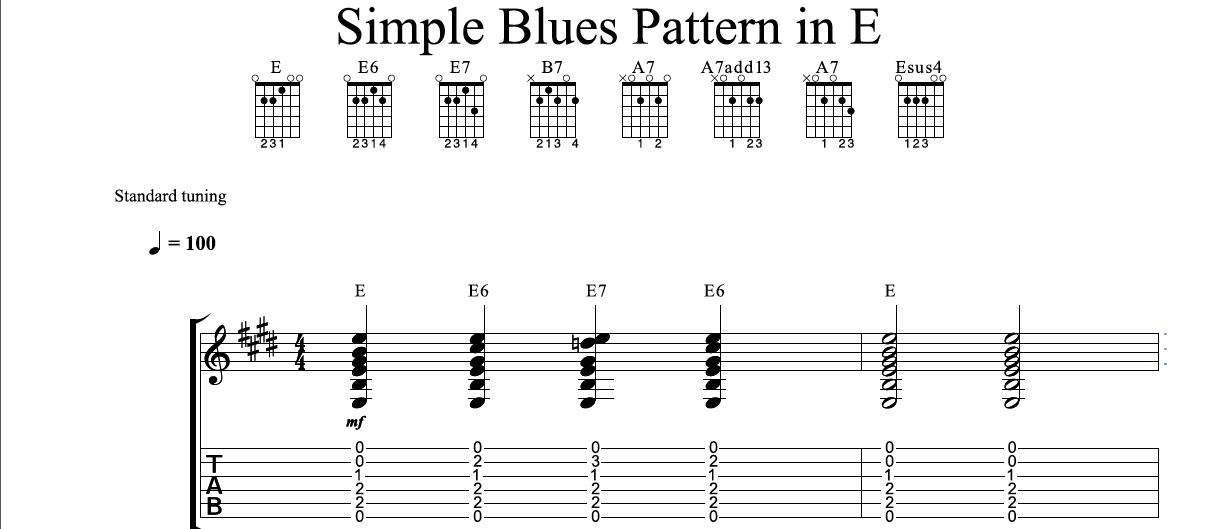 ---
 For those who say " ah... acoustic guitar tabs for House, Techno, EDM, Dub Step" or any electronic based form you can mention? Well the answer is that I have heard/seen great musicians reproduce the emotive feel of such styles with the guitar. It may require some technology to do live like loop stations and special effects but it has been and is being done. Also we have to bear in mind that electronic music is a highly "triggered and controlled" form.  Some  of what you may think is programmed, however artistically and cleverly has been created using not just a keyboard instrument as the standard controller or other accepted control surfaces such as drum pads or on screen GUI, but actually the humble guitar interfacing with the modern world of technology! In time I hope to have several acoustic guitar TABS for just about anything you can think of.
back to home>acoustic guitar tabs to >click here to support this site
If you are local to the United Kingdom West Midlands Coventry Kenilworth Leamington Warwick Rugby Stoneleigh  CV8 Post Code area and are interested in tuition feel free to arrange a "First session Free" Guitar or Theory Lesson. Perhaps you just want to *chat over a cuppa about the options for your children's music education.
*N.B. Until further notice all interaction will be virtual or in full observation of distancing practices.
Playable Guitar 
Rural Innovation Centre Unit 32 Avenue H 
Stonleigh Park CV8 2LG   +44 2476 998 500
International? Please contact me about Skype lessons. Se habla español – pues bueno un pocito! 
click here to see how to support this site

---
Got suggestions or questions?
Want to try a free Skype or Zoom lesson?
Got a testimonial? click here
Click the link to the contact form above or write to me at the address shown and I will get back to you as quick as I can !
Happy playing!
---