Japanese Water Garden
Japanese Water Garden by Stephen Gross is an ABRSM Guitar Grade 4 exam piece from the old List C. The video lesson presents a scrolling score and "chord box" or "chord frame" type chord diagrams to help you with harmonic rhythm and fingering at 84 beats per minute per quarter note.
This video includes some right-hand fingering indications along with the tab and chord diagrams. 
---
Irregular Time Signature
Japanese Water Garden is in 7/8 time. This is called irregular time signature. It cannot be divided evenly. Irregular time signature must be interpreted in an asymmetrical kind of lopsided way.
In the case of 7/8 it must be either 3 beats + 4 beats, as it is in our case for Japanese Water Garden, or it could be presented as 4 beats + 3 beats pulse.
The beams of the 1/8th notes (the predominant unit of rhythm) are an indication of the stresses in the pulse of the 7 beats.
In our Japanese Water Garden case however subtle, it would be:
-strong weak weak/strong weak less strong weak-
Counting Japanese Water Garden
Simply put, a suggested way to count this would be, 123/1234 as a steady count of the equal length pulses representing each 1/8th note.
Alternatively, if it works better for you, you could imagine 123/12/12.
•Try tapping your finger on a table top for a while. Experiment and count out loud or silently with very deliberate focus on a chosen numerical pulse system with accents or stresses that you feel will work for your interpretation of Japanese Water Garden. •Try using the YouTube settings to slow the video down if you need to until you get the hang of it all!
However, you "count" it, in the end you need to reach the point of just "feeling it".
Counting is just a way of understanding the "groove" (yes classical music does have groove!) until you can feel it. Then you can stop counting and put some expression into your performance. Japanese Water Garden is a beautiful piece. Good luck. Happy playing! 
---
More Information About the Japanese Water Garden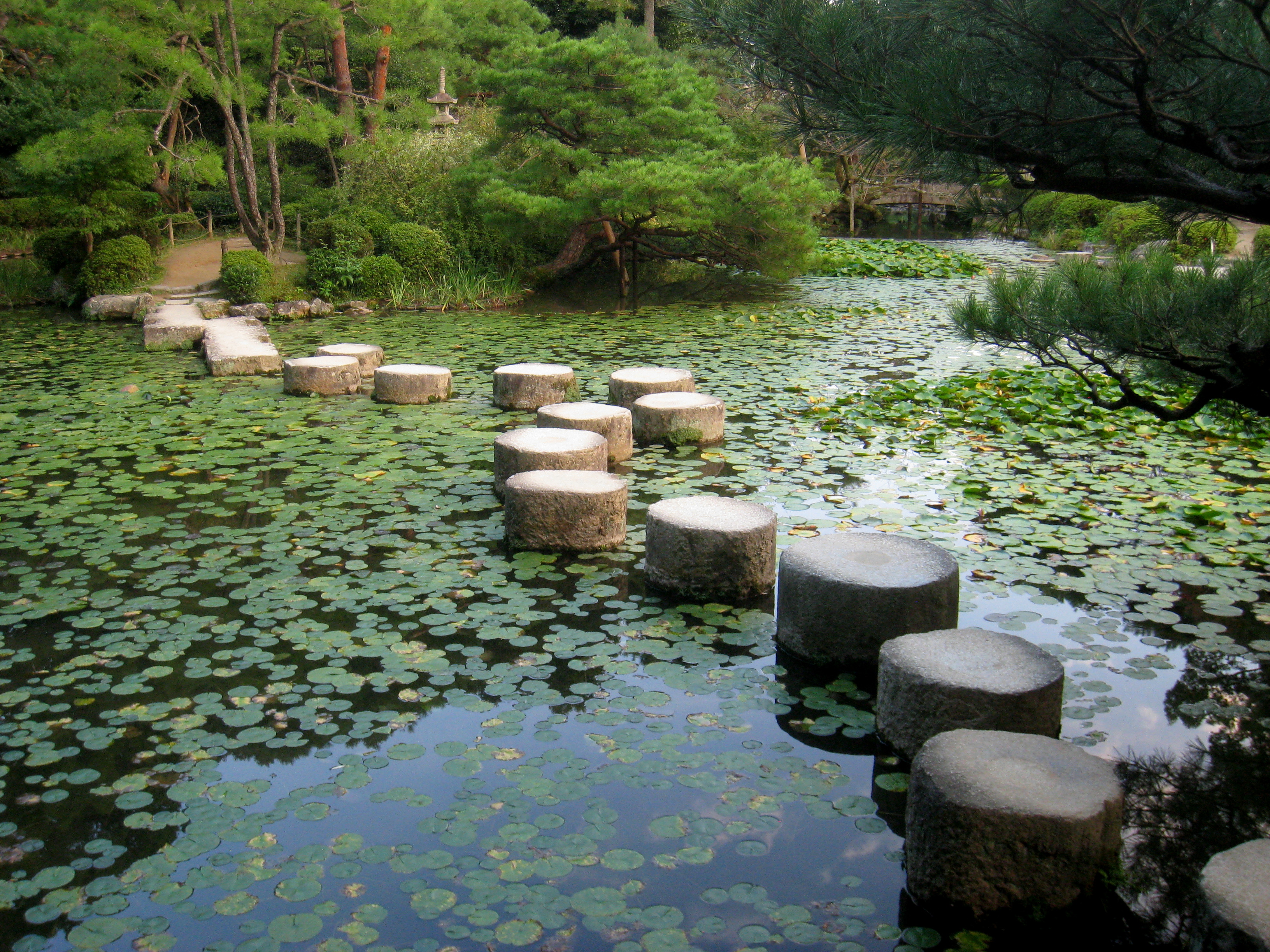 Apparently Japanese gardens always feature water, either physically with a pond or stream, or symbolically, represented by white sand in a dry rock garden. In Buddhist symbolism, water and stone are thought of as yin and yang, two opposites that complement and complete each other. A traditional garden will usually have an irregular-shaped pond or, in larger gardens, two or more ponds connected by a channel or stream, and a cascade, a miniature version of Japan's famous mountain waterfalls.
Home> Top of Page> Back to Acoustic Guitar Tabs> Electric Guitar Tabs 
If you are local to the United Kingdom West Midlands Coventry Kenilworth Leamington Warwick Rugby Stoneleigh  CV8 Post Code area and are interested in tuition feel free to arrange a "First session Free" Guitar or Theory Lesson. Perhaps you just want to *chat over a cuppa about the options for your children's music education.
*N.B. Until further notice all interaction will be virtual or in full observation of distancing practices.
Playable Guitar 
Rural Innovation Centre Unit 32 Avenue H 
Stonleigh Park CV8 2LG   +44 2476 998 500
International? Please contact me about Skype lessons. Se habla español – pues bueno un pocito! 
click here to see how to support this site

---
Got suggestions or questions?
Want to try a free Skype or Zoom lesson?
Got a testimonial? click here
Click the link to the contact form above or write to me at the address shown and I will get back to you as quick as I can !
Happy playing!
---