Left Handed Guitar Videos
This page is players who are looking for left handed guitar video lessons shot with a lefty perspective.
My research tells me that many of you left handed players prefer the right hand visuals whilst quite a few would still like to see things from the same perspective as your own playing posture. 
---
Click 

on

 Thumbnails

to Go straight to the Left Handed Videos



Over the Rainbow       Scale Diagrams      E Blues Pentatonic  Lefty Ukulele Blues
---
---
PDF and Guitar Pro 6 File Links
(for Guitar Pro Links check your default download location after clicking)
Over the Rainbow Guitar Pro File
---
---
The Mirror Effect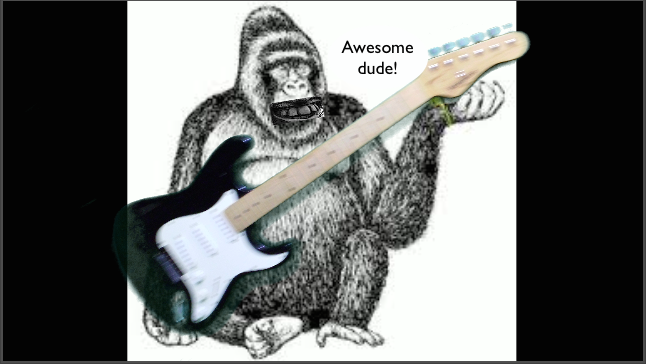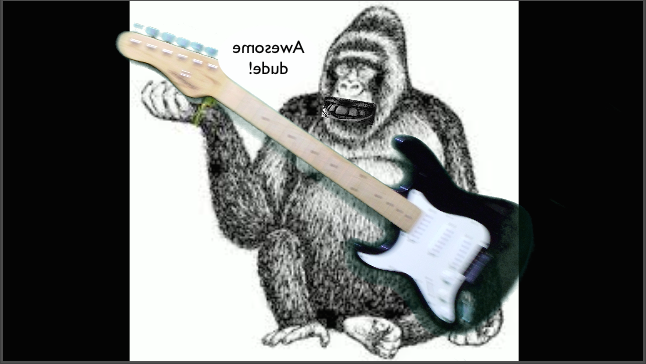 There is a lot to be said for the mirror effect. When two opposing handed (one left handed and one right) players face each other the effect is that of a person looking at themselves in a mirror. For some folks this can be a useful and more understandable way of looking at things such as in left handed guitar videos. For others it can be disconcerting and distracting. Then there are some people who it does not seem to affect at all either way.  However we approach it this is another case of the "no right or wrong" situation. I personally feel that if I were a left handed player I would probably want to get used to the exposure to the right-handed majority for resources. It seems there would be no escaping it anyway. Remember depending on if you are a man or a woman, roughly only 10 -12% of the world has a dominance in the left hand.
Left Handed Guitar: Common Ground
Tablature and musical notation are the same for both handed players. So really there are only three main differences created when imparting knowledge through lessons or musical performances through written graphic representations. Boil it down and you can clearly see these are the left handed stringing of the instrument, the left handed holding posture of the instrument and the chord or scale diagrams that match that stringing/posture configuration. 
Theoretically we could create resources for each of the four possible combinations of stringing and playing postures. This is pretty much where I personally would draw the line. If you have a unique approach well, that is really great. However saying that you may want to find a quick way of converting or translating majority resource material rather than search out the fractional percentile level that may exist for your particular stringing method and posture!   
For you guys that want to see it this way I have "flipped" a few videos to the left handed guitar video perspective and will continue to do so as and when I get the time to. 
---
---
If You Like Any of This Site
Websites are time consuming and cost money to create and maintain. If you find any information on this site useful to you please feel free to support the efforts of this site. This needn't mean costing you any money at all. There are several ways you can help if you so desire. I thank you greatly in advance for anything you may decide to do. 
Share via social media, use the buttons at the bottom of any page!
Like a page on Facebook 
Promote PlayableGuitar.com by word of mouth....thanks very much...  
Subscribe to the Youtube and/or Vimeo channels, RSS (Free and no email or personal info required) or Guerrilla Guitar Tactics Newsletter (email required) or all of the above!
Contribute content ...contact me directly...
Correct me when you find typos or screw ups!
Link to PlayableGuitar.com from another site... try to keep it relevant :-)
Contact me directly if you have any suggestions or requests for content
---
If you can also:
Enquire about Skype lessons ("Contact Me" form at the bottom of any page)
Visit my Red Bubble page here  
---
---
Over the Rainbow Left Hand Version
---
Left Handed Scale Diagrams
---
E Pentatonic Easy Blues Lefty Example
---
Left Handed Simple Ukulele Blues Riff
If you are local to the United Kingdom West Midlands Coventry Kenilworth Leamington Warwick Rugby Stoneleigh  CV8 Post Code area and are interested in tuition feel free to arrange a "First session Free" Guitar or Theory Lesson. Perhaps you just want to *chat over a cuppa about the options for your children's music education.
*N.B. Until further notice all interaction will be virtual or in full observation of distancing practices.
Playable Guitar 
Rural Innovation Centre Unit 32 Avenue H 
Stonleigh Park CV8 2LG   +44 2476 998 500
International? Please contact me about Skype lessons. Se habla español – pues bueno un pocito! 
click here to see how to support this site

---
Got suggestions or questions?
Want to try a free Skype or Zoom lesson?
Got a testimonial? click here
Click the link to the contact form above or write to me at the address shown and I will get back to you as quick as I can !
Happy playing!
---
Home>Top>Left-Handed Guitar Page
Sign up to RSS to be notified when more left handed guitar resources arrive. It is free and requires no email or personal info! Happy playing :-)