Ukulele Songs for Guitar Players
The truth is that all songs can be a ukulele songs. Just like any musical scale can be a guitar scale or ukulele scale. This page is for both guitar players and newbie players of the ukulele (non- guitar players if you will...) to explore the possibilities for playing songs of your own choosing in styles of your own choosing as ukulele songs. In other words songs adapted for arrangement to suit playing on a ukulele. This may include blues, rock, pop, country, jazz, classical, reggae you name it! 
Example Beginning Ukulele Songs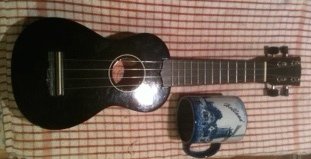 Soprano Ukulele on tea towel with coffee mug as size reference
Below are some good simple ideas in bluesy and classic rock/pop formats just to get you starting to play and develop your dexterity and technique on these rather small ( but perfectly shaped :-) ) fret boards!
Remember to try to mentally absorb the *"function" of each chord used and memorise the connective patterns of the progressions to the point of making the muscle memory second nature. Here is the *Diatonic Chord Chart PDF from the Ukulele chords page for download if you don't already have it. If this chart makes no sense go to the ukulele chords page and/or explore this site for more on music theory.
Click here for the Master I IV V Chord Chart PDF
Click here for the Master A-G Major Minor Dominant Chord Chart PDF
Try this little I IV V ("one four five") riff in the video below to get you warmed up. 
Download the Guitar Pro File here (After clicking go to your default downloads location)
The TAB notation and hand shot video should give you the idea! If you have some previous experience or a little theory knowledge try transposing this riff into different keys, it may be easier than you think!
---
Some Groovin' Little Songs
---
Leo Sayers' Long Tall Glasses (I can dance) can make pretty good use of our little "A" key riff. Just adapt it for your own tempo and groove. Listen here: https://youtu.be/_P7EkR8UjFs
Long Tall Glasses      Leo Sayer Get PDF
---
 Can't Hold Out can be done in any key that you or someone can sing it in. I usually hear it in E (Clapton does a great version listen here: https://youtu.be/gWobe4Y998w) but hey... why not try it in the "A" key to get the hang of transposing?? 
                        Can't Hold Out             Elmore James Get PDF
---
For Wild Thing you may want to use these particular voicings in the image below. Listen to it here: https://youtu.be/Hce74cEAAaE
Wild Thing                      Chip Taylor Get PDF
---
Ok I'm afraid that's all I have time for at the moment but I will keep updating the RSS feed very time I add a uke song so stay tuned!
Happy playing!
Home>Top>UkuleleCords> Ukulele Tuning
If you are local to the United Kingdom West Midlands Coventry Kenilworth Leamington Warwick Rugby Stoneleigh  CV8 Post Code area and are interested in tuition feel free to arrange a "First session Free" Guitar or Theory Lesson. Perhaps you just want to *chat over a cuppa about the options for your children's music education.
*N.B. Until further notice all interaction will be virtual or in full observation of distancing practices.
Playable Guitar 
Rural Innovation Centre Unit 32 Avenue H 
Stonleigh Park CV8 2LG   +44 2476 998 500
International? Please contact me about Skype lessons. Se habla español – pues bueno un pocito! 
click here to see how to support this site

---
Got suggestions or questions?
Want to try a free Skype or Zoom lesson?
Got a testimonial? click here
Click the link to the contact form above or write to me at the address shown and I will get back to you as quick as I can !
Happy playing!
---