Santa Claus is Coming to Town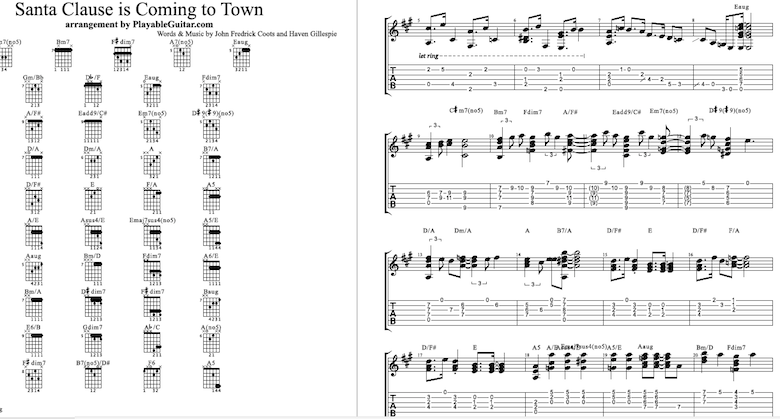 Go Straight to Free Santa Claus is Coming to Town PDF featuring score,Tab and Chord Diagrams
Get the Free Guitar Pro File Here
(Remember to check your default download location after clicking to download the GP6 File)
Santa Claus is Coming to Town was originally written by John Fredrick Coots and Haven Gillespie in the early 1930's. It has become a timeless classic of the Christmas music repertoire. The song original appeared on the market through Eddie Cantor's radio show in America around 1934. Since then the list of artists that have covered it over the years seems kind of endless. They range from crooners to pop stars to rockers, jazzers, country folk, city folk, folky folk, classical arrangements it goes on and on. I'd bet that if you can think of it then it would have been done somehow somewhere!
---
Performance Notes for Santa Claus is Coming to Town: Chords
The first thing to mention here is that if you are looking at the PDF score try not to be put off by the "Bazillion" chord box diagrams! They are only there to satisfy the curious. They also create healthy debate about what to call chords that fit into more than one nomenclature. That is for a different web page though!
---
Our concerns?
You may at some point begin to realise if you haven't already that Roots and Guide Tones (Guide Tones are mostly the 3rds and 7ths) are extremely common structures in comping and arranging.
All those minor 7 no 5th and dominant 7th no 5th chord names will become obvious as Root 3rd and 7th shape for any given chord quality.
Don't worry about it if you don't get it yet. Just play! You will start to get a feel for the fact that you already probably play at least some of these shapes anyway. They are all just mutations, variations or repetitions from the same gene pool. If you're not ready to analyse a chord and give it a name yourself right now don't stress too much about trying to remember a name for each one.
If we wanted to we could try to name every harmony or implied harmony beat for beat throughout this tune. It wouldn't be worth trying to shoehorn all those chord symbols into the analysis!  Just use them as and when you need them and use your own fingerings where you want to.
---
Performance Notes for Santa Claus is coming: Notation 
I could have notated this transcription a little more simply. The reason I went with a more literal rhythmic representation was because of technology.
I wanted the MIDI version to come out a little closer to the performance version. The problem is computers are really the dumbasses here when it comes to this stuff! You can't just tell them to "swing" or put a triplet "feel" into something or ask for a free rubato interpretation. They just don't get it!
Maybe they will always have a use for us after all and decide not exterminate us just because they don't need us for anything else anymore except for art! Who knows?
---
Performance Notes for Santa Claus is coming: Technique
If you can, try to cut through all the theory stuff and just play. If you've been exposed to me for long enough you'll know that I still consider the theory stuff very, very important stuff for sure. Especially if nothing else to be able to communicate effectively with other musicians. However theory is the analysis of playing and not the other way around.
There are a few technically demanding places in the arrangement that require some focused practice and repetition. Saying that much of this version is just familiar common chord grabbing and intuitive melody choice from what is "reachable" …"playable"... did ya see how I did that?
Find the logical musical divisions of phrases and sections and work on them one chunk at a time and you will get it! Even if you don't play it this Christmas you have next year to prepare for! Happy Playing...
Home>Top>Back to Guitar Tabs List
If you are local to the United Kingdom West Midlands Coventry Kenilworth Leamington Warwick Rugby Stoneleigh  CV8 Post Code area and are interested in tuition feel free to arrange a "First session Free" Guitar or Theory Lesson. Perhaps you just want to *chat over a cuppa about the options for your children's music education.
*N.B. Until further notice all interaction will be virtual or in full observation of distancing practices.
Playable Guitar 
Rural Innovation Centre Unit 32 Avenue H 
Stonleigh Park CV8 2LG   +44 2476 998 500
International? Please contact me about Skype lessons. Se habla español – pues bueno un pocito! 
click here to see how to support this site

---
Got suggestions or questions?
Want to try a free Skype or Zoom lesson?
Got a testimonial? click here
Click the link to the contact form above or write to me at the address shown and I will get back to you as quick as I can !
Happy playing!
---