ABRSM for Guitarists
This ABRSM for guitarists page (updated 12/2019) is for students and/or the parents that may want help to navigate the exam study and eventual entry process for an ABRSM guitar grade. ABRSM by the way is just an initialism abbreviation for the United Kingdom based worldwide organisation the Associated Boards of the Royal Schools of Music. 
Nota bene:International users you can still use this site. Simply click on the country disclosure arrow at the top right hand corner of the ABRSM page you arrive at. You can then to choose from the available countries or follow the prompt given to take you to the country you are in. If you wish to contact the ABRSM remember to select a country from the field box just above the submit button. 
If you are only after a quick look at exam dates and fees click here
If you want to go straight to the ABRSM exam booking page click here
If you want to go straight to an example support video for a Grade 5 piece click here
If you want to go straight to an example support video for a Grade 5 Scale click here
If you want to go straight to an example support video for a Grade 4 Exam Score with scrolling notion tab and chord diagrams click here
Otherwise here is their welcome video to kick things off...
The first thing you may notice when researching ABRSM for your guitar exam information is that the ABRSM home page has no mention of guitar on it at all! 
Go to the "Our Exams" just to the righ of "About us" in the top of the page horizontal menu. Click on Our Exams but ON it and not below on one of the sub menu items (like the first on the list "What is a Graded Exam").
---
At this point you can either:
Use the search bar to find "Guitar" in the bottom 5th of the pop up pane 
Or:
You'll need to scroll down about eight "page folds" (roughly when the scroll bar gets to the lower third of your screen) to get to our hidden treasure! Scroll past Bowed Strings, Woodwind and Brass. You will get to "Other Instruments". Guitar should, these days, be there along with Singing, Harpsichord and Organ. It doesn't matter how you get there as long as you arrive though. Once you are there the first port of call is the  Guitar Requirements and Information PDF. To find it click on any of the Grade Numbers in the Boxes next to the guitar icon. This will take you to that "Grade (Number)" page. There you will see the Key Exam Information list with the Requirements PDF at the top.
You can also click the Guitar icon that you just found that then takes you to the "GuitarExams" page and then click on any grade number in the row that appears next to the new guitar icon on the new page.
---
---
Guitar Requirements and Information PDF
1- Download it for future reference.
2- Read through this six-page section of document. It has some very useful information and guidance.
3- Here is my take of some important things to keep in mind.
A)  You can enter at any ABRSM exam up to Grade 5 with no need to have previously taken any other exam irrespective of age.
B)  This exam is only for nylon strung classical guitars. "Cutaway" bodies are accepted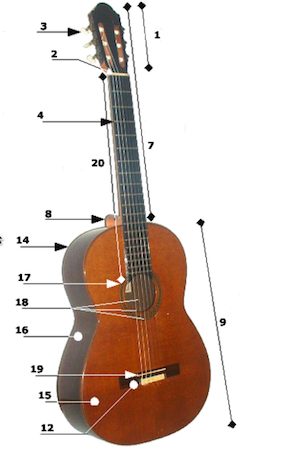 C)   Capos are only permitted in the Grade 7 and 8 pieces where required
D)  It is up to you and/or your teacher to choose the three pieces, one form each of the three lists vetted by the ABRSM for examination assessments.
E)  Don't choose pieces that require accompaniment. It always ends up being more complicated to arrange and always more expensive.
F)   It is best to stick to the exam editions and arrangements for simplicity unless you have a real good reason to take advantage of any free choice version.
G)  Don't use any photocopies ever!... unless you have concrete evidence that you can bring to show permission(s) to do so to the ABRSM examiner. Hardly worth it.  Page turns are accepted and will not affect the marking.
H)  Don't Forget the Technical Exercises.
I)      Be in tune and have all your own gear. I.E. footstool, tuner (if needed) spare strings etc.
---
---
What to Do Next
Next download and save the syllabus for your chosen grade. When it comes to ABRSM for guitarists it is not a bad idea to get the complete all grade guitar syllabuses too for occasional future reference as needed. Saying that you want to stick the grade specific one for the most part once you get going to avoid any accidental misinformation by scrolling or jumping to the wrong page(s). The format and layout is all very similar in look from grade to grade and it is easy to look at the wrong requirement for your own grade. It also makes it harder to go directly to the relevant information for your chosen grade when you are navigating the whole document. Remember: Home Page>"Our Exams" button then scroll down to roughly the lower third of the page to the Guitar icon... or use the search bar at the bottm 5th of the pop-up pane.
Click the specific Grade Number you want to get the syllabus and the Requirements PDF for download and/or click on the red Grades 1-8 Box to get the complete Grades Syllabus.  
...or just click here for the complete ABRSM for Guitarists syllabus...
---
---
The Next Step
Now you need to refer to the syllabus and go about surveying the pieces that are available to you for study.
You can check on any Internet audio/video streaming channel for examples of captured live or studio recorded versions of the pieces. 
From 2019 the new ABRSM Guitar Syllabus was released. You can buy the Exam Pieces Books from many retailers. The pieces are chosen from three groups, Group A, B or C.
You can purchase all or part of any ABRSM syllabus pieces for each Grade on the ABRSM site download page for audio versions. 
From the "ABRSM for guitarists" point of view I recommend that you "scout" for the pieces you like the sound of. Then purchase an audio example of an expected interpretation of each piece you that want to study.  
As this site grows I will provide video lessons, examples and helpful links to any students and anyone interested.
Below is an example of ABRSM Classical Guitar Grade 5 List C: Khachaturian's No Walk Today! A supplemental left hand fingering support lesson for bars 29-36
Below is an example of ABRSM Classical Guitar Grade 5 Scale requirement for the G Melodic Minor scale
Below is an example of ABRSM Classical Guitar Grade 4 list C: Stephen Gross' Japanese Water Garden with scrolling score, tab and chord diagrams
If you have any requests for help with specific ABRSM performance materials or even just want to ask me a question please use the contact form on any page of this site. I will do my best to provide any help that I can. 
The Other Next Step for ABRSM for Guitarists
We also need to consider the other exam elements along with the pieces. These include but are not really limited to:
Technical exercises; Aural Skills and Sight Reading. Once you get used to operating under the principle that as long as your practice session is nurturing one or more of the three pillars: theory, technique and ear training you are on to a winner. Remember Head Hands Hearing + Heart.
I will be building a page for each element as time permits:
ABRSM for Guitarists; Music Theory (Head)
ABRSM for Guitarists; Scales and Technical Exercises (Hands)
ABRSM for Guitarists; Aural Skills (Hearing)
ABRSM for Guitarists; Sight Reading (Head, Hands, Hearing and Heart)
Sign up for my newsletter or subscribe to my RSS feed to keep updated.
Happy Playing!
Home>Top>Back to Music Grades Page>click here to support this site
If you are local to the United Kingdom West Midlands Coventry Kenilworth Leamington Warwick Rugby Stoneleigh  CV8 Post Code area and are interested in tuition feel free to arrange a "First session Free" Guitar or Theory Lesson. Perhaps you just want to *chat over a cuppa about the options for your children's music education.
*N.B. Until further notice all interaction will be virtual or in full observation of distancing practices.
Playable Guitar 
Rural Innovation Centre Unit 32 Avenue H 
Stonleigh Park CV8 2LG   +44 2476 998 500
International? Please contact me about Skype lessons. Se habla español – pues bueno un pocito! 
click here to see how to support this site

---
Got suggestions or questions?
Want to try a free Skype or Zoom lesson?
Got a testimonial? click here
Click the link to the contact form above or write to me at the address shown and I will get back to you as quick as I can !
Happy playing!
---