Kon-Tiki
As a guitar instrumental Kon-Tiki was ideal for The Shadows, and was recorded by the original line-up, Hank Marvin, Bruce Welch, Jet Harris and Tony Meehan. It became a chart topper for the band in the UK.
It was written by Michael Carr. The song is named after the legendary raft, Kon-Tiki (which is also the older name for Viracocha the Inca god) used by Thor Hayerdahl in his 1947 south sea expedition. Produced by Norrie Paramor and released on Columbia (EMI) in 1961, Kon-Tiki was backed by another instrumental written by the four Shadows members, "36-24-36." 
N.B. I'm offering a free hour of Skype/Zoom/online lessons to the first 3 people to spot the bar where I believe that I can hear Hank Marvin made what sounds like it may have been a "little glitch/typo error" that wasn't worth correcting. (the man is still a giant of the icons of guitar!)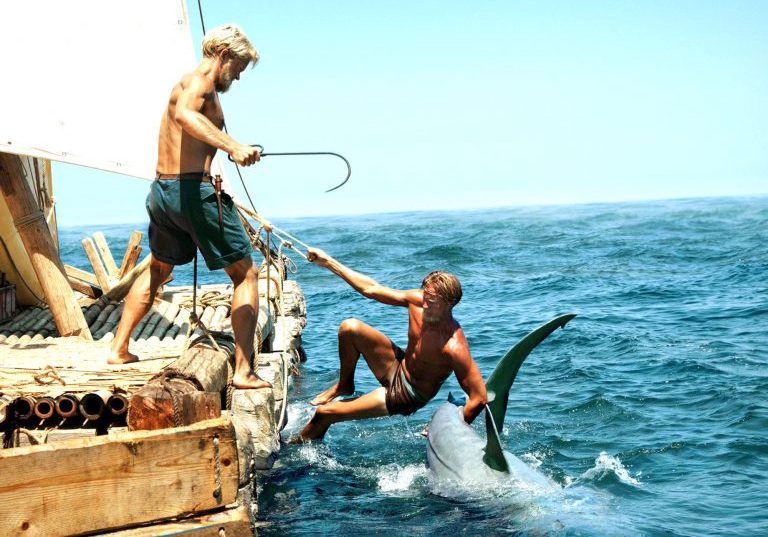 This version of Kon-Tiki although suitable enough for upper level beginners, will have its challenges for the less experienced. It may be looked at as a project piece for those who are at the edge of their current envelop. Saying that, with careful work arounds such as leaving out some voices during triple or double stops or using drone strings and single line melodies can make for playable techniques with effective and convincing results in performance. Intermediate players should with some care be pretty comfortable with this transcription. As always, I have tried to use the simplest open position fingerings where possible. Advanced players should explore Kon-Tiki's closed position fingerings and come up with their own arrangements. The range of skill also climbs into the advanced level on the spectrum the more one pays attention to the dynamics, phrasing, vibrato bar technique and general Hank Marvin groove and feel for Kon-Tiki.
Kon-Tiki's Technical Considerations: Rhythm and Melody
Kon-Tiki is generally very playable. The Melody is mostly quarter notes (crotchets) played at a moderate tempo. Use your ear to grasp and absorb the elongated sounding triplet feel of the quarter note triplets that arrive firstly in the intro at bar 2 and at bar 4. This quarter note triplet then reoccurs on the "and of one" in bar 11. This rhythm and melody together engender a familiar sounding Polynesian island flavour to Kon-Tiki. Again, use your ear to internalise the triplet rhythm and chromatic melody phrase.
Kon-Tiki's Technical Considerations: Harmonic Functions
Kon-Tiki is in the key of A major. It is a straight forward I  IV  V ("1 4 5"). The chords therefore being I = A… IV = D… and  V = E or E7. This track is a great little study for the high string set of triads. It is also a great example of voicings in double stop 3rds. If you can play an A chord and D chord you should be able to grab these triads. 
The chord E7 in bar 2 is nothing more than an open D7 chord played two frets higher up the neck (at frets 3 and 4)  
Moving on to bar 25 you may find that if you can get your first finger to bar across the E and B strings this will be the best way to the D major chord at the end of the bar. This really just the top three (G B E) strings of the "Open E major type chord shape". 
The E chord in bar 26 is nothing more than the top three (G B E) strings of the "Open A major type chord shape". 
The A chord on beat 1 of bar 27 is just an open D major chord moved up to the 9th and 10th frets. 
The A chord on Beat 3 bar 27 is really just the same as the D in bar 25! Getting the picture?
If you have trouble with the double stops that enter at bar 33 just try playing one line at a time at first. You can experiment with drone the High E or B string depending…
The E7 chord at the end/outro is exactly the same "shape" as an open D7 chord.  Just imagine an D7 chord and place your first finger on the D string fret 6, your second finger on the A string fret 7 and your third finger on the G string fret 7. Voila!
Happy Playing!
Home   Top of Page    Back to Electric Guitar Tabs   Go to Acoustic Guitar Tabs
Contact me with any questions. Please like/subscribe etc!
If you are local to the United Kingdom West Midlands Coventry Kenilworth Leamington Warwick Rugby Stoneleigh  CV8 Post Code area and are interested in tuition feel free to arrange a "First session Free" Guitar or Theory Lesson. Perhaps you just want to *chat over a cuppa about the options for your children's music education.
*N.B. Until further notice all interaction will be virtual or in full observation of distancing practices.
Playable Guitar 
Rural Innovation Centre Unit 32 Avenue H 
Stonleigh Park CV8 2LG   +44 2476 998 500
International? Please contact me about Skype lessons. Se habla español – pues bueno un pocito! 
click here to see how to support this site

---
Got suggestions or questions?
Want to try a free Skype or Zoom lesson?
Got a testimonial? click here
Click the link to the contact form above or write to me at the address shown and I will get back to you as quick as I can !
Happy playing!
---