Temporary Notice:
Cancer is likely to affect all of us at some point. We all know or know of someone who is dealing with it or has recovered from it.Support Cancer Research UK this JUNE by sharing the "giving page" link or by donating what you can to help join the fight against cancer. https://fundraise.cancerresearchuk.org/page/jonathans-cycle-300-giving-page-23
Many thanks, Jonathan. June 300 mile challenge ride
Playable Guitar Strikes a Chord
A Warwickshire entrepreneur has launched "Playable Guitar" an innovative guitar school that provides free resources to aspirational guitar players, schools and colleges.
Rural Innovation Centre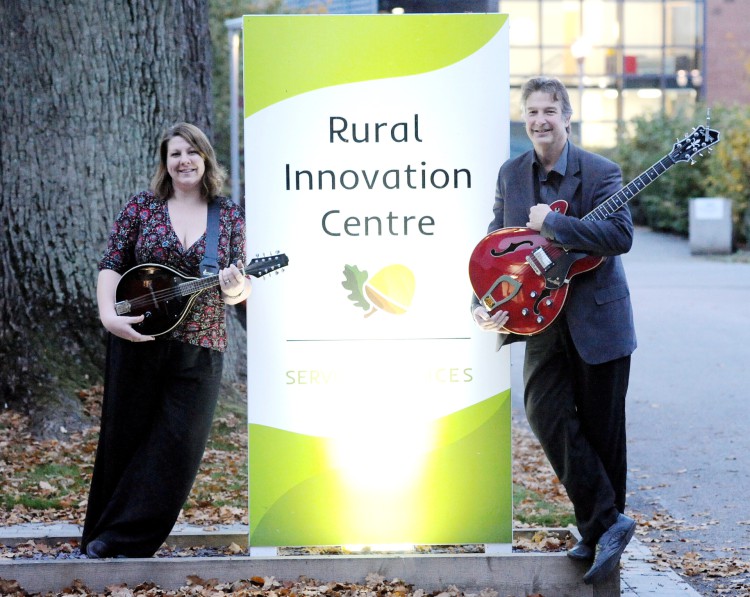 PlayableGuitar, which has opened its doors in Stoneleigh Park's Rural Innovation Centre, is building on its website which has provided similar resources for the past two years.
The new office has facilities for music editing, producing tutorial videos and even has its own small recording studio.
---
---
Who is Playable Guitar?
Jon Rothenberg , the musical businessman behind the business, also works four days a week for Warwickshire Music, helping with tuition in local schools, and previously as head of music for the Warwickshire College Group. He holds an honours degree from Berklee USA in Music Production and Engineering.
He has a rich history in music, playing with local artists from bands like The Specials, The Selector, Style Council, The Beat and King – also playing support for artists such as Chubby Checker, Steppenwolf , Steeleeye Span and other major artists in his career. 
Originally from Washington D.C, Jon made his move to the UK as a result of working as a technician for artists such as U2, David Bowie and The Pogues.
His music, as a composer or session player, has been heard on American cable TV, BBC TV and Radio, MTVIggy, Sky News Broadcast, DR2 Denmark, NHK TV Japan and UK Regional Radio stations.
---
---
Why Stoneleigh?
After working on projects from London to Boston, Jon returned to teaching guitar in Warwickshire and 15 years on has set-up at Stoneleigh Park. He said the location immediately struck a chord. "It's brilliant, I love it. The office is easy to get to and the area itself is really lovely and secure, plus they are well looked after and well managed," said Jon.
"I needed somewhere within my budget for me to make music, record videos and teach my private lessons and this place has everything I need. I was one of the first in the new development here in the Rural Innovation Centre and it has been a fantastic move for me."
---
---
Local in Person International Online
Jon currently has a busy timetable of regular students, with others who attend on an ad-hoc basis.
"I hope to keep growing PlayableGuitar. I have so much more material to put online and I'm really excited about running the new adult evening groups and Club Americana, teaching unique styles from back home," he added.
Liz Burkinshaw, manager of the Rural Innovation Centre, said: "PlayableGuitar does a wonderful job in helping absolutely anyone learn to play. "This space was created to give businesses such as this a home and we look forward to seeing a host of new musicians emerging from Jon's tutelage."
Playable Guitar takes the fear and confusion out of learning music theory. Using Mnemonic "Blueprints" we demystify the often over complicated process.
If you are local to the United Kingdom West Midlands Coventry Kenilworth Leamington Warwick Rugby Stoneleigh  CV8 Post Code area and are interested in tuition feel free to arrange a "First session Free" Guitar or Theory Lesson. Perhaps you just want to *chat over a cuppa about the options for your children's music education.
*N.B. Until further notice all interaction will be virtual or in full observation of distancing practices.
Playable Guitar 
Rural Innovation Centre Unit 32 Avenue H 
Stonleigh Park CV8 2LG   +44 2476 998 500
International? Please contact me about Skype lessons. Se habla español – pues bueno un pocito! 
click here to see how to support this site

---
Got suggestions or questions?
Want to try a free Skype or Zoom lesson?
Got a testimonial? click here
Click the link to the contact form above or write to me at the address shown and I will get back to you as quick as I can !
Happy playing!
---